Wallingford, Oxfordshire: £7,600 - £9,600 per annum depending on experience + the listed benefits + the apprenticeship fee.
Full time.
Please apply by sending your CV and a brief introduction to our Customer Service Portal
Agencies should not apply.
Role Overview
Triaster is a software company that is involved in a wide range of technically challenging projects. You will be part of a hard-working and extremely successful customer success team with major involvement in the technical support aspects of the products we provide to our wide ranging customer base.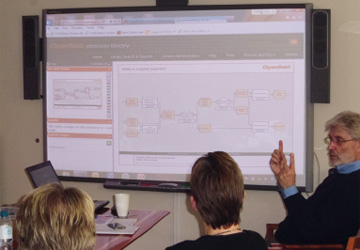 Role Summary
You will have the opportunity to learn how the Triaster suite is constructed and operates in order to provide a real-time Support Network in the form of direct customer contact, product help, maintenance and documentation. Due to the diversity of our customers you will be exposed to many business sectors through the software we provide. Every day will be a new challenge.
Key Job Roles
Following development of product knowledge providing support to customers via remote access, email and telephone.
Writing and maintaining help files to ensure knowledge is documented correctly and effectively allowing staff and users alike to use it as a point of reference
Working with the Triaster Development Team to test and document new product releases and enhancements
Providing support to the customer success team on bespoke projects where required
Daily stand-up meetings with the team to communicate your plan and any issues you may be facing
Requirements
The ideal candidate loves technical challenges, is probably a PC/networking enthusiast who is highly motivated by the idea of helping people who are not so technically capable.
Required Skills
Strong written and verbal communication skills with effective listening skills
Great attention to detail in own work as well as the ability to proofread and review others' work
Methodical approach to problem solving
The ability to work well in a team in order to reach a common objective
Confident in the use of MS Office Suite
Desired Skills
Knowledge of Notepad++ and basic XML
A motivation to learn and develop knowledge around software support and development
Ability to independently research and improve skills with the guidance of peers
An enthusiastic approach to providing assistance on a variety of tasks
Good email and daily schedule organisation
Personal Qualities
We are looking for a highly motivated individual who wants to develop their knowledge of maintaining and supporting software in a professional environment, learning new skills and being part of a customer success team that has strong relationships with customers.
Desired Qualifications
GCSE Maths and English grade C or above
Why Triaster?
Triaster is a company that is focused on developing its staff alongside the business. We promote a friendly culture and as such, along with a competitive salary, the following benefits are offered:
25 days holiday per annum
Flexi-time with up to 13 days per annum of additional flexi-leave
Performance bonuses
Company funded social programme
Fitness-at-work scheme allowing up to 2 hours a week of time to be spent on fitness with at least one other team member
Up to 4% stakeholder pension contribution, to match the employee contribution