The Business Improvement E-book
How 8 Customers Turned Their Process Problems into Business Improvement Triumphs

What Can This E-book do For You?
Help you identify the business problems a BPM System can solve - detailed in this 16-page report.

Break down the problems the eight organisations had with their processes.

Highlight their improvement goals.

Discover how they solved the unique challenges of their business.

Help you Identify how to Change organisational culture.

Identify how to Implement continual improvement.
Download the E-book to Get a Unique Insight Into How:
University of Winchester

National Oilwell Varco

Sungard AB

Equifax

Lockheed Martin

Homeserve

Interserve

Skanska UK
...solved their unique business improvement problems.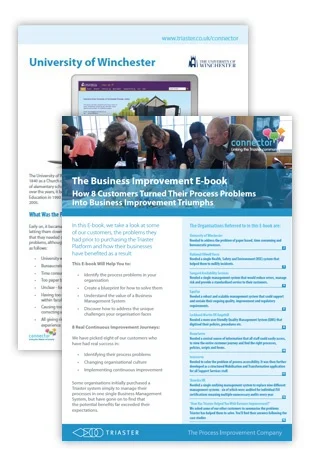 Download the Business Improvement E-book Now