The A-Z Guide of Business Process Management
An Exhaustive Explanation of BPM: From What BPM Means to Successful Implementation Delivering Improvement

This Extensive Guide Will Explain:
What BPM actually is

What BPM can do for you and your business

What you need to know before you buy

How to manage a successful BPM implementation

How to use your BPM system to deliver improvement

Where to find other useful resources
Why it's important:
Anyone can buy a BPM system, but to get the setup, implementation and integration right from the start, requires a little help.
This guide will arm you with the knowledge that you need to successfully implement a BPM system in your organisation; from choosing the right system to getting your team on board, to avoiding the classic failures of BPM implementations that have gone before.
The guide is over 100 pages long and contains 24 articles, but it is broken down into 6 sub-sections and is designed so you can jump to the information you need, whether you are an absolute beginner or further along in your process improvement journey.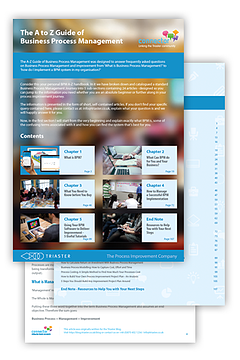 Download the A-Z Guide of Business Process Management Now