CASE STUDY
Lockheed Martin UK Ampthill
On implementing a new QMS, which is now driving process improvement
Lockheed Martin UK, is the UK-based arm of Lockheed Martin Corporation. Lockheed Martin UK specialises in the development, integration and sustainment of advanced technology systems, products and services.
The company works with more than 100 business partners and employs more than 3,000 people in the UK, working on a wide range of major programmes spanning the aerospace, defence and civil sectors.
Lockheed Martin UK Ampthill, in Bedfordshire, is a World leader in Defence equipment design and manufacture, a very tightly controlled industry. The Ampthill site is fully compliant to AS9100 Quality Management System standard and the US parent company also sets out stringent processes and controls which the UK must comply with. These cover not only product development, but also other corporate processes.
In 2012 these processes and controls were all to be found in text-based documents. There were a great many documents spread across various Networks, some of which were in the United States (USA) and some of which were specific to the Ampthill site in the UK.
Everyone was agreed that a more user friendly Quality Management System (QMS) was needed.
When the Process and Compliance team in Ampthill proposed implementing a Triaster Process Library to the Leadership team, they thought it was such a good idea that they set the team a target of six months to convert all their quality management documentation into process maps. And a further target of reducing the amount of text in their QMS by 50 percent!
Looking back the team think they were slightly optimistic to have agreed to these targets, but they really wanted to implement the Triaster Solution!
The Process and Compliance team's first step was to identify exactly which documentation was relevant to the Ampthill site and prioritise it for process mapping.
Following this, two Triaster Consultants worked full time, alongside two Lockheed Martin employees spending 25% of their time on the project, mapping the documented processes.
Changing from text based process documentation to a Process library was a big cultural change for the company, so the Lockheed Martin team worked with Triaster on a programme to both develop an engaging identity for their Process Library, and to explain to the rest of company that a new QMS would be coming soon and the benefits that it would bring both to individuals and the company.
Calling their Process Library 'Touchstone', an eye catching logo and brand was developed. This was used consistently in, amongst other things, posters, newsletters and awareness sessions - where the developing Process Library was demonstrated - to spread the word that Touchstone was coming.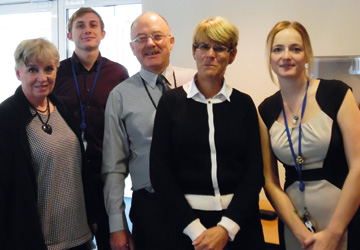 Achieving both of the targets set by the Senior Leadership Team, Touchstone was launched in the summer of 2013, delivering a greatly improved comprehensive QMS, which is:
A 'one-stop-shop' for all policies, processes and procedures
An easy to understand visual representation of their processes
On their intranet
Easy to access
Easy to navigate
Contains process linkages and interactions which are both visible and easy to follow (end-to-end business processes)
Contains all templates, forms, means of compliance and guidance materials linked to directly from the process maps
Shows the cross functional process approvals
Contains a comprehensive reporting suite
Has an excellent search facility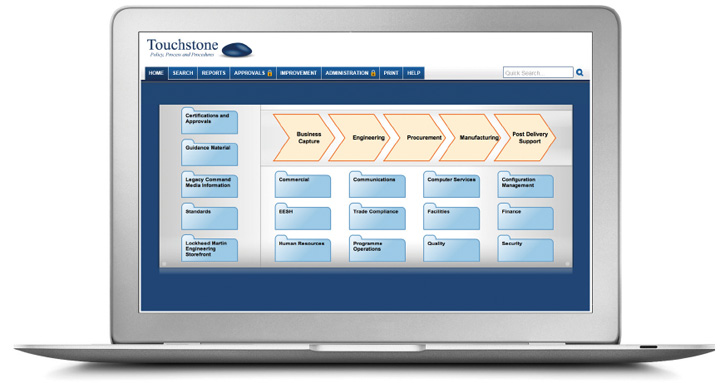 Lockheed Martin Touchstone is very easy to use.
Touchstone has also enabled, far easier and quicker than previously, ISO9001, TickITPlus and AS9100 (aerospace management) accreditation.
The story doesn't stop there of course. The Process and Compliance team have continued to develop Touchstone to ensure that it is as useful as possible for their end users and are starting to think about changing the navigation away from a quality focused navigation, towards an end user focused navigation. They have an idea of having a homepage which offers suggestions, a bit like a cash machine which says 'What do you want to do? Do you want to top up your phone? Take out some cash? Print a statement?'
As well as continually improving the system as a QMS and keeping Touchstone visible with How To and Reference guides, T-shirts, other give a ways, and quality focus groups, the team are now planning to use Touchstone and the Triaster Solution to drive evidence based process improvement.
The Process and Compliance team is soon to be bolstered by formally trained Six Sigma experts, who will use Touchstone as the base point for modelling process improvement.

Published December 2015