CASE STUDY
New Charter Group
How they saved £350k per annum!

Caught amid the many demands on us all, it can be a daunting task trying to identify inefficiencies and implement process improvement solutions. However in 2016, the New Charter Group, a housing association with properties in Greater Manchester and the East Midlands, became determined to identify their own process problems and work on finding efficient, effective solutions that would save their organisation valuable time and money.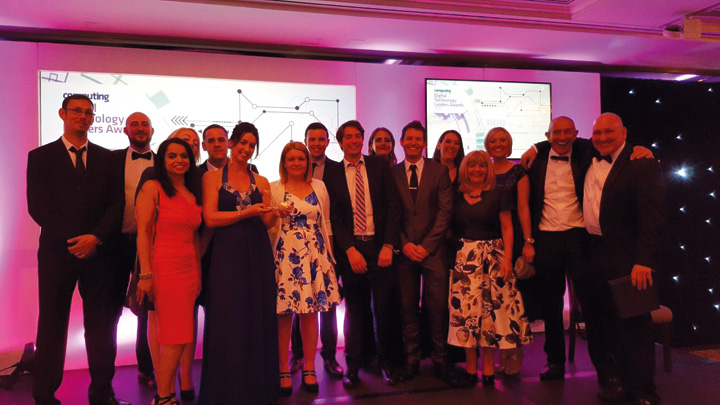 It is fair to say that this was a great move. After only 18 months in the saddle of quality and business improvement, New Charter was not only rewarded with astonishing return on investment but also the Digital Technology Leaders Award 2017 for 'Digital Team of the Year'.
We are delighted that Emma Woodrow, the manager of New Charter's Service Improvement team, took the time to provide an honest and detailed account of the Group's success story.
Three initial challenges
In early 2016, the New Charter Group was confronted with three major challenges.
In summer 2015 housing associations were prohibited by law from raising the rents on their properties – at all. Given the fact that inflation continues to exist, in real terms this means a 15% reduction in revenue by 2019/2020.
This translated into a general reshuffling and restructuring procedure within the Group, resulting in a lack of resources and the inability to deliver on their paper-based processes.
The Service Improvement team wanted to improve tenant/customer satisfaction and the service that they provide, despite the difficult financial climate.
Clearly, these three problems required urgent action and smart problem solving skills. New Charter had previously only used process mapping on an ad-hoc basis, and the team was lacking significant process mapping experience. Emma Woodrow notes that what gave them the push they so urgently required was a BPM trial with Triaster, after which they decided to purchase the software platform. Next thing they knew, the team found themselves process mapping the entire tenancy procedure from 'Keys-to-Keys'.
The process mapping stage
Rather than just mapping out individual processes, New Charter's Service Improvement team wanted to map the entire Keys-to-Keys process, broken down in manageable sections. After trying to look for quick wins they recognised that changing one part of an end-toend process can have unintended and negative consequences. There will always be knock-ons from other parts of the process not yet included in the primary process mapped.
Thus, they invited all the key stakeholders for the Keys-to-Keys process, to a process capture workshop. The team also went on job-shadowing excursions, to ensure that the processes as mapped were what actually happened in reality. Looking at it from a process improvement perspective, they were able to determine the data behind every activity, including properties such as duration, frequency, required resources, and pay band. Using a bespoke properties file developed by Triaster, they were able to automatically calculate the cost of every activity.
Having mapped the AS-IS of the entire Keys-to-Keys process in about 280 process maps, many process improvement opportunities became visible. There were a great many handoffs and complexities in the process, giving rise for potential inefficiencies.
Starting to model the TO-BE, the Service Improvement team looked at ways of replacing paper-based processes with mobile applications, which they designed and specified to address the Group's key challenges and deliver reduced cost, reduced time and improved service.
To date, three processes have been re-engineered, supported by new mobile applications and the results measured.
The rewards: extraordinary return on investment
With just three team members, and supported by Triaster, the New Charter Service Improvement team has already delivered an astonishing return on investment.
The voids process:

savings of £120,000 per annum (62%) + £36,000 per annum


The routine tenancy visit process:

savings of £104,000 per annum (66%)


The surveyor's inspection process:

savings of £90,500 per annum (56%)
While the first two processes were process mapped using both Microsoft Visio and the Triaster software – with the Visio maps imported into Triaster - the surveyor's inspection process was mapped exclusively using the Triaster software. This enabled the team to calculate on every single activity exactly what had been saved.
It is clearly visible that all the hard work and long hours were worth it. "It's been a steep learning curve", Emma Woodrow recalls, "which is why we bought Triaster E-learning at the beginning of 2017 – we just wanted to make sure that we could get as much help as we needed."
Continuing continuous improvement
In light of such fantastic savings, it might have been easy to stop right then and there. Fortunately, the New Charter Service Improvement team have not. They have revisited the voids process and identified another £36,000 of savings per annum, taking the total savings to £350,000 per annum. In addition, another six mobile applications are being developed to enable another six re-engineered processes to be rolled out, meaning that significant additional savings per annum are in the pipeline.
It is the focus on continuous improvement that matters. Now the New Charter team is working on creating a higher level, less detailed process library for employee training purposes.
The team has also been sharing their experiences with others: their presentation on their process improvement journey at the Housing Quarterly Network conference in September 2017 was a huge success and inspired other associations to analyse their potential for process improvement.
Why is New Charter Group now sharing all of this information with us? In order for others to benefit and catch the process improvement bug, Emma Woodrow recommends opening up communication channels.
This age is all about going digital – honesty and transparency definitely are the keys to success.
Well done!
We at Triaster congratulate the New Charter Group on their hugely successful process improvement voyage. The astonishing return on investment is well-deserved. We were not the only ones who think that New Charter is doing an outstanding job: their excellent work was rewarded with the Digital Technology Leaders Award 2017 for 'Digital Team of the Year'.
We are glad to have accompanied and supported the New Charter Group throughout this journey and want to thank Emma Woodrow for her warm words.
The support we got from Triaster was amazing, the speed invaluable. That made a massive difference; I would recommend Triaster to anybody.

Emma Woodrow
New Charter Group is now part of the Jigsaw Homes Group.
Published December 2017