CASE STUDY
Skanska
Skanska simplify their processes and create an improved way of working
Skanska is one of the world's largest construction companies. They employ approximately 5,400 staff in the UK alone, develop commercial and residential projects and have demonstrated a fierce commitment to sustainability, community investment and environmental protection.

What Was the Problem?
Triaster's partnership with Skanska has been building steadily since the implementation of a single Process Library within Skanska Civil Engineering. At that time, Skanska had nine operating units which were completely independent with each one having its own unique management system.
Each system had its own platform, six of which were audited by the LRQA for individual ISO certifications, meaning multiple audits every year, performed by the same auditors, looking at similar content and presented differently within different management systems.

Skanska's impressive system of process sharing has significantly reduced both duplication and cost and is a very good example of innovation in practice.
Joe Goasdoué, BQF Chief Executive
How Did They Solve it?
In 2010 Skanska UK decided to make three changes that would revolutionise the way they ran their business:
One management system containing policies, processes and procedures common to all operating units
A single accreditation (LRQA)
A common business process management platform (Triaster)
After listing areas of their business, Skanska UK were immediately able to identify that all of their processes fell into one of these categories:
Functional Area – supporting processes, health and safety, procurement
Project Control – everyday project management processes
Sector – processes to meet specific requirements e.g. gas, highways etc
Pretty soon the best person to represent each area of the business was identified, together with a team of process owners who took control of their areas by using process mapping to work out best practice.
Like links in a chain, the best core processes were identified leading to the implementation of the One Skanska Library: 'Our Way of Working.'

I want to formally thank Triaster for your huge contribution in helping Skanska to win this award. The hours of preparation and planning with you to define exactly what we were seeking to achieve has exceeded my expectation to the extent that it is rather taken for granted internally now! The technical implementation was something quite special...
Kerry Ann Christelow, Skanska UK's Business Process Technical Manager
How Are They Able to Harness Triaster for Continual Improvement?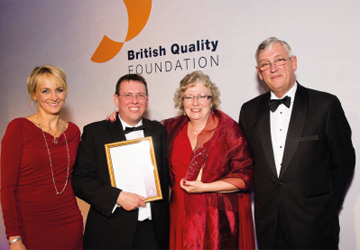 On the Skanska UK homepage there are menu options for each operating unit. Once the user clicks on the relevant Operating Unit Library, they are given Functional Area and Project Control menu options. This navigation always takes the user to the correct processes and procedures for their operating unit.
It is clear to see that Skanska UK's decision to implement a single Process Library in 2010 has had an immense influence on not only their processes, but also on developing a quality culture. The 'Our Way of Working' library focussed on the 'why' – explaining the reasons why something is done and the impact it has on the customer.
Skanska UK won the 2013 Achievement Award for Innovation from the British Quality Foundation just three short years after implementing 'Our Way of Working'.
Following this, Skanska UK have focussed on creating quality projects and their five zeros vision:
Zero loss making projects
Zero environmental incidents
Zero accidents
Zero ethical breaches
Zero defects

The guys at Triaster really are second to none and are the best I have ever dealt with. They offer a supportable solution and are extremely quick to act when things go wrong. Communications are also excellent.
Chris Needham, Business Systems Specialist, SKANSKA UK
Published October 2017