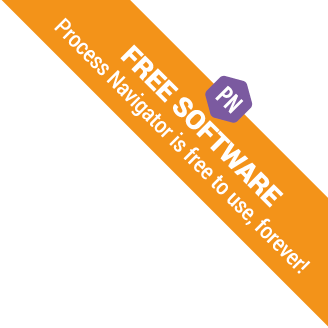 Process Library
Standard
A fully integrated business management system for embedding or reinforcing a process culture at the heart of your organisation


Unlimited Viewers (Enterprise licence)
Unlimited Process Navigator Standard version process mapping licences
An easy to understand, easy to use, secure website, intelligently presenting all processes, policies, forms and guidance documents
One central source of accurate information giving process visibility and transparency for your enterprise
The functionality to support all major quality standards and accreditations
Strong process control and automated review and approvals workflow
IIS Server 2CPUs and 4GB RAM
Financing available from Triaster partner:
Clear Business Finance >
View Price breaks >
| Price | Length | Price Break |
| --- | --- | --- |
| £26,550 | 12 months | 25% |
| £49,560 | 24 months | 30% |
| £69,030 | 36 months | 35% |
| £84,960 | 48 months | 40% |
| £97,350 | 60 months | 45% |
Professional
The ultimate Business Process Management system for organisations ready for a highly developed process management information system
Everything in STANDARD plus:
Unlimited Process Navigator Professional version process mapping licences
Free access to E-learning Library
1 additional Library
Process optimisation modelling
IIS Server 2CPUs and 4GB RAM
Financing available from Triaster partner:
Clear Business Finance >
View Price breaks >
| Price | Length | Price Break |
| --- | --- | --- |
| £53,550 | 12 months | 25% |
| £99,960 | 24 months | 30% |
| £139,230 | 36 months | 35% |
| £171,360 | 48 months | 40% |
| £196,350 | 60 months | 45% |
---
Recommended Services
Choose from the following additional services
E-learning courses


Design Consulting and Implementation


Services

Cost
Bespoke front-end (Home Page) design
To see example designs, please click here.
£1,300 per day (a full design from scratch would typically take 10 days)
Process map Stencil and Template customisation (Basic and Standard options)
£162.50 per hour
Data Visualisations
£162.50 per hour
General design consultancy services
£162.50 per hour
Technical services


| Services | | Cost |
| --- | --- | --- |
| Report creation and customisation | | £162.50 per hour |
| Analytics enablement | | £162.50 per hour |
| Search customisation and SharePoint integration | | £162.50 per hour |
| Software feature customisation | | £162.50 per hour |
| Technical and integration consultancy services | | £162.50 per hour |
On-premises services only


| Services | | Cost |
| --- | --- | --- |
| Technical installation services | | £162.50 per hour |
| Mobile devices enablement | | £650 per system |
| Project Management | | £3,000 per setup |
| On-Premise Support | | £950 per month |
Process Envision is the recommended supplier of Triaster Process Library professional services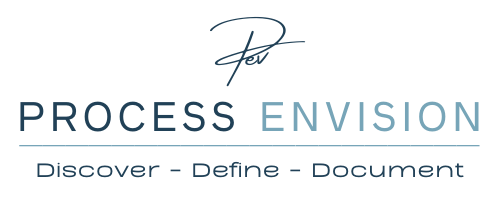 For information on the Triaster Services offered by Process Envision, together with the full range of business process services offered, please contact them.
Process Envision's contact details are:
Process Navigator
Standard
Everything in start-up plus:
Professional
Everything in standard plus:
Business analytics and dynamic simulation tools
Process Library Features
Capture Your Processes


Drag and drop Process Mapping couldn't be easier

Features
Standard
Professional
Desktop Process Mapping software (Process Navigator)


Create processes in Microsoft Visio: using Triaster Traditional, Triaster Custom, BPMN, Basic Flowchart, Audit Diagram, IDEF0...templates
Native support for Microsoft Visio diagrams (No import necessary)
Swimlanes
Add custom shapes
Store bespoke metrics behind shapes
Generate next level/top level views
Hyperlink to documents, videos, audio, web pages



Integral drill-down
Automated off-page connectors to related processes
Export/import through Microsoft Excel
Export to HTML wizard
Consolidated process mapping tools Toolbar
Centralised meta-data management across all process maps
Create processes in Microsoft Excel
Run custom reports on captured data
Batch update of hyperlinks across multiple process maps
Batch update of data across multiple process maps
Create Excel Data Managers to manage the metrics stored on shapes
Develop multiple data managers for batch updates
Synchronise map data across multiple Libraries simultaneously
Create Process Hierarchy (node tree diagrams)
Batch update of Visio shapes across multiple process mps
Generate end-to-end diagrams
Generate Planning Charts
Export to Microsoft Project
Export/import through XML
Export to Microsoft Access
Share Your Processes


The greater the number of people that Use your processes, the bigger the ROI

Features
Standard
Professional
A secure website (Process Library) licensed for
Unlimited viewers
Unlimited viewers
Share HTML views of Microsoft Visio process maps (no import necessary)
Automated nightly publish
Access via Internet Explorer, Chrome, Safari, Firefox, Opera
Access via iPhone, PC, tablet
A choice of 6 pre-designed Process Library Design Themes
Import and export of design
News page for an overview of the latest processes and documents
Publish On-Demand
Disconnected Server
Multi-language support with automated translation from a customer maintained Language Translation Database (in Microsoft Excel format for ease of use)
Business Analysis Libraries
Unrestricted
Drive-up Process Adoption


Great Reporting and Documentation to increase Process Adoption

Features
Standard
Professional
Online help guides
User manuals and context sensitive help throughout the solution
Ability to report on any data captured in your processes
Standard reports -RACI, Risk Analysis, Revision, Review reports
Sort, filter and group report data
E-learning Library
Pay as you go
Free
Find Your Processes


Make your processes accessible to your whole organisation

Features
Standard
Professional
Search across documents
Search across processes
Search across web-pages
Search based on job role, system and process owner
Sort, filter and group job role, system and process owner search results
Control Your Processes


Strong Process Governance

Features
Standard
Professional
Automated deletion of Obsolete HTML
Sandpit and Prelive websites for draft and unapproved map review
Create new sites within a Library
Unlimited
Unlimited
Web-based process approval and review capability
Auditable change history report
Web-based library configuration
Auto-increment version and revision numbers on publish
Auto-increment version and revision numbers on approval
Auto-archive library content on publish
Automated send of change notification emails
Automated send of publication emails
Automated send of Approval reminders
Automated send of Review Overdue reminders
Flexible configuration of overdue interval settings
Event Notifications
Improve Your Processes


Tools to help drive the Continual Improvement Cycle, drive down cost and inefficiency, and drive up quality

Features
Standard
Professional
Dynamic Simulation
Aggregable data
Process Status Report
AS IS vs TO BE(s) Process Comparison Report
Process Transformation Report
Calculate Process Metrics including end-to-end cost, time, effort and Lean 6 Sigma cycle time and Process Cycle Efficiency
Adjust simulation runs and maximum iterations
Simulate parallel paths in process
Simulate and aggregate reusable processes
Display properties on maps
System hosted on-premises

Features
Standard
Professional
Our Process Libraries are typically hosted online but we do offer on-premises hosting.
Process Library Infrastructure
Process Library Support Services – online hosted only

Features
Standard
Professional
Managed Infrastructure
Telephone and
e-mail.
Unlimited incidents. Same day response to requests received before 3pm on UK business days
Telephone and
e-mail.
Unlimited incidents. 1 hour response during UK business days. Ability to choose hardware specification and upgrade / downgrade as required - extra Azure charges from improved hardware passed on at cost
Help desk
Telephone and
e-mail.
5 incidents per month. Next UK business day response
Telephone and
e-mail.
Unlimited incidents per month. Same day response, to requests received before 3 p.m. on UK business days
Learning Management System (LMS) access
Pay as you use
Unlimited users, free of charge
Technical Advisory
Telephone and
e-mail.
1 request per quarter. Next UK business day response
Process Library Infrastructure Services – online hosted only

Features
Standard
Professional
Service accredited to ISO27001, ISO22301 and ISO9001
The solution is hosted in Tier 2 UK data centres on Enterprise server virtualisation technology
All primary systems are replicated to a second UK data centre for business continuity & disaster recovery (RTO and RPO of 24 hours)
Dedicated virtual servers are provided per customer
A separate network and private VLAN per customer
Secure Microsoft Active- Directory authentication for Authors
Secure ADFS authentication for Users
Dedicated WatchGuard Firewall with high-availability and unified threat management services
Dedicated 100Mbps internet service, with resilience and unlimited throughput (can scale to 10Gbps)
Daily system backups with 1 month retention
All hosted systems licenced via Microsoft SPLA (ensuring software licence compliance)
Choice of server specification
Process Library Support services - hosted on-premises

Features
Standard
Professional
Robust, secure, ISO 27001 compliant, managed infrastructure services and support cannot be included.
Purchase of our On-premises Support package is mandatory. Telephone and e-mail. 3 incidents per quarter. Same day response to requests received before 3 p.m. on UK business days. Contract minimum is 12 months
ATC Free Features
| Features | Free |
| --- | --- |
| Feedback tool | Unlimited users |
| Single webpage contact point for all customer communications | Unlimited users |
| Moderation of all posts (feedback and general communication) | |
| Viewing audiences set by Moderator | |
| Guest posts | |
| Comments on posts | |
| One central database for all customer communications and feedback | Unlimited data |
| Topics | Unlimited |
| Best practice lifecycles for multiple standard processes; follow-up actions pre-defined from post to business improvement | |
| Automated e-mail updates | |
| Filter by: Topic, Assigned to, Created by, Lifecycle, Lifecycle Stage, Release | |
| Assign/reassign Ownership | |
| Voting on posts | |
| Custom Lifecycle Editing Releases | |
| Source Process Web Page URL | |
| Automated pass-through of source process via External Submission Page | |
| Search by String ID | |
ATC Customer Services Features
| Features | Standard | Enterprise |
| --- | --- | --- |
| Single webpage contact point for all customer communications | Unlimited users | Unlimited users |
| Feedback tool | Unlimited users | Unlimited users |
| One central database for all customer communications and feedback | Unlimited data | Unlimited data |
| Topics | Unlimited | Unlimited |
| Best practice lifecycles for multiple standard business processes, follow-up actions pre-defined | | |
| Lifecycle editing for customisation | | |
| Automated e-mail updates | | |
| Moderation of all posts (feedback and general communication) | | |
| Viewing audiences set by Moderator | | |
| Guest posts | | |
| Comments on posts | | |
| Voting on posts | | |
| Filter by: Topic, Assigned To, Created By, Lifecycle, Lifecycle Stage | | |
| Search by String, ID | | |
| Assign to/ Reassign ownership | | |
| Own branded feedback tool | | |
| Private/single tenanted database | | |
| Custom features | | |
| Internal hosting if required | | |
ATC Product Owners Features
| Features | Standard | Enterprise |
| --- | --- | --- |
| Best practice Agile development lifecycles | | |
| Lifecycle editing for customisation | | |
| Assign to/reassign ownership | | |
| Releases | | |
| Filter by: Topic, Assigned to, Created by, Lifecycle, Lifecycle Stage, Release | | |
| Search by String, ID | | |
| One central database for all customer communications and feedback | Unlimited data | Unlimited data |
| Topics | Unlimited | Unlimited |
| Single webpage contact point for all customer communications | Unlimited users | Unlimited users |
| Feedback tool | Unlimited users | Unlimited users |
| Automated e-mail updates | | |
| Moderation of all posts (feedback and general communication) | | |
| Viewing audiences set by Moderator | | |
| Guest posts | | |
| Comments on posts / Voting on posts | | |
| Own branded feedback tool | | |
| Private/single tenanted database | | |
| Custom features | | |
| Internal hosting if required | | |
ATC Quality Managers Features
| Features | Standard | Enterprise |
| --- | --- | --- |
| Best practice Process Improvement lifecycles | | |
| Lifecycle editing for customisation | | |
| Assign to/reassign ownership | | |
| Releases | | |
| Filter by: Topic, Assigned to, Created by, Lifecycle, Lifecycle Stage, Release | | |
| Search by String, ID | | |
| One central database for all customer communications and feedback | Unlimited data | Unlimited data |
| Topics | Unlimited | Unlimited |
| Single webpage contact point for all customer communications | Unlimited users | Unlimited users |
| Feedback tool | Unlimited users | Unlimited users |
| Automated e-mail updates | | |
| Moderation of all posts (feedback and general communication) | | |
| Viewing audiences set by Moderator | | |
| Guest posts | | |
| Comments on posts / Voting on posts | | |
| Own branded feedback tool | | |
| Private/single tenanted database | | |
| Custom features | | |
| Internal hosting if required | | |
| Source Process Web Page URL | | |
| Automated pass-through of source process via External Submission Page | | |
ATC Platform Features
Features
ATC
Free
ATC
Standard
ATC
Enterprise
Cloud-based – no IT overhead, supports remote working
Tasked based – what needs doing next is totally clear to all
Lifecycles - your best practice processes set as lifecycles, so everyone has to work to one agreed way of doing things
Lifecycle creation – quick and easy set up of your best practice processes as task-based workflows
Lifecycle editing – quick and easy lifecycle editing, enabling Continuous Improvement
Releases - records the timeframe over which tasks completed
Web page submission of inputs – where your process interacts with external customers
Automated e-mail updated – keeping both internal and external customers updated every step of the way
Users update also via App login – enabling transparent working for all
Clear input & activity assignment – those Accountable and Responsible obvious to all
Assign/reassign of Process Owner – enabling end-to-end process routing
Unlimited Moderators – to administer the platform
Unlimited Users – including all your team and customers, both internal and external
Unlimited Crowds – set up as many projects as works for your organisation
Viewing audiences set – keeps all content secure
Voting on improvement inputs – by the audience set
Comments on improvement inputs – by the audience set
Subscribe to improvement inputs – by the audience set
Filter by: Created By, Assigned To, Topic, Release, Lifecycle, Lifecycle Stage – for all your reporting needs
Search by: String, Input ID Number – to immediately find what you need
Automated pass-through of webpage url and source process – for BMS system feedback
Unlimited Process Owners – no need to purchase new licences as new Process Owners added
As purchased
As agreed in bespoke framework
Custom features – whatever additional features your organisation require
As agreed in bespoke framework
Own branded platform – the ATC platform branded to your corporate guidelines
As agreed in bespoke framework
Private/single tenanted database – but still in the Cloud
As agreed in bespoke framework
Internal hosting if required – if your IT protocols require it
As agreed in bespoke framework