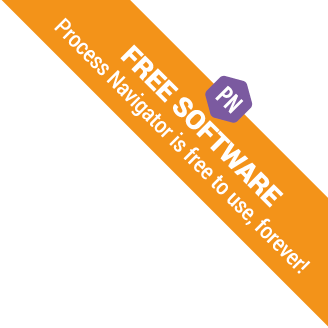 What is Process Navigator?
Process Navigator is the ultimate drag & drop process mapping software. It sits on top of Microsoft Visio making process mapping much easier and more powerful.
And … it is absolutely free.
What it does
Captures your business processes with ease.
Quick to create, easy to understand process maps
Process mapping shapes are dragged and dropped to create simple, easy to understand process diagrams. Process Navigator was developed to work perfectly with the Noun-Verb Process Mapping Methodology, which is a powerful, yet very simple way to document a business process.
Features that make this possible:
Drag & drop shapes
Connector tool
Auto-layout
Generate next level/top level views
Automated off-page connectors to related processes
Captures detail and data for reporting and analysis
Detail and data is captured as meta data stored behind each of the shapes, enabling the identification and analysis of performance improvement opportunities, without making the process maps complex or confusing. Additional information can be added for access via hyperlink to documents, videos, audio and other web pages.
Features that make this possible:
Store bespoke metrics behind shapes (Properties)
Hyperlink to documents, videos, audio, web pages
Standard
Everything in start-up plus:
Professional
Everything in standard plus:
Business analytics and dynamic simulation tools